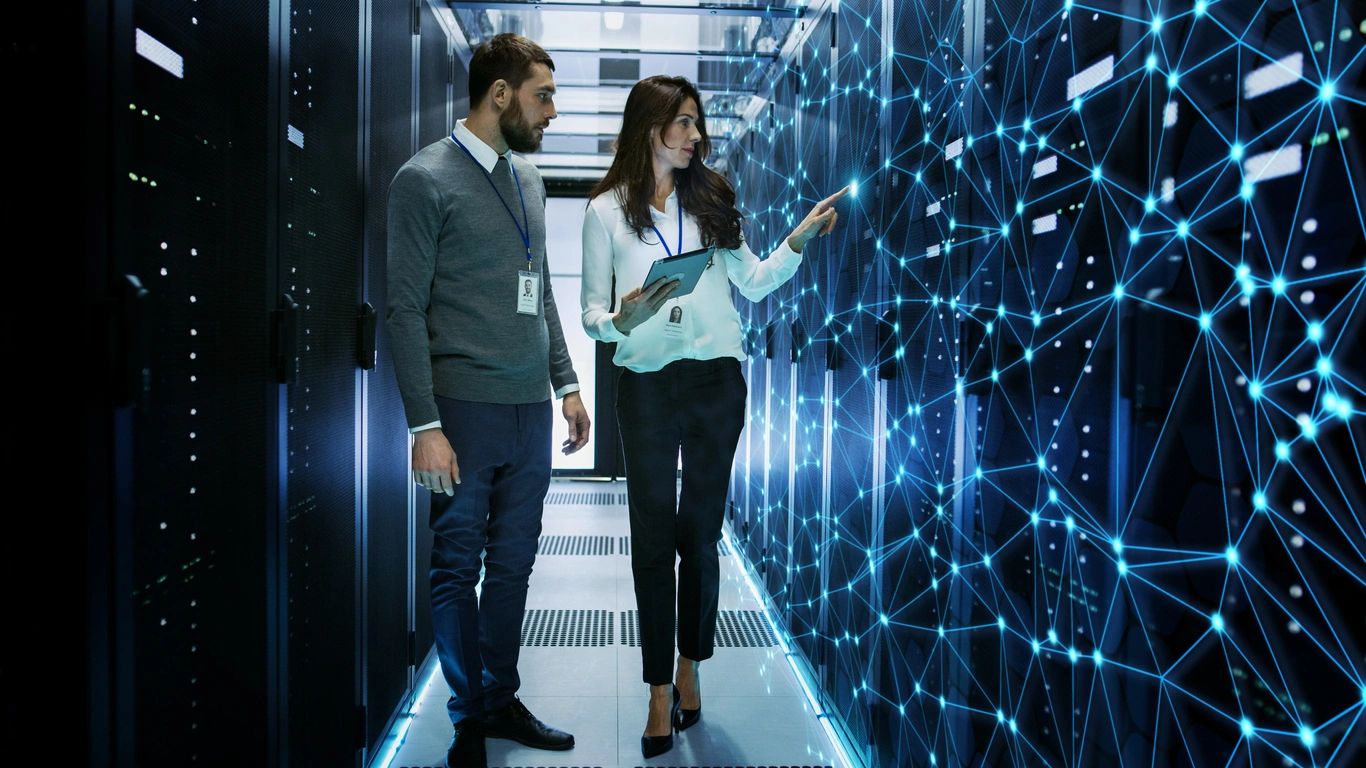 In today's highly competitive market, the extent to which a corporation succeeds and grows is increasingly dependent on its use of technology. But it can be daunting for business owners and executives to make their way through IT's large and complex landscape. This is where information technology consulting services come in. In this piece, we'll explain IT consulting and discuss how it could assist companies in maximizing their use of technology to increase revenue.
What is IT Consulting?
IT consulting is a professional service performed by information technology experts. These consultants collaborate extensively with firms to understand their specific needs and difficulties before providing strategic counsel and assistance on how to successfully employ technology to achieve their goals. An IT consultant's function is varied and can change based on the needs of the organization.
An IT consultant will often examine the organization's present IT infrastructure, identify areas for improvement, and build a comprehensive IT plan that corresponds with the business goals. This plan may involve hardware and software upgrade recommendations, the installation of new systems or procedures, and the incorporation of emerging technology.
What are the Benefits of IT Consulting?
Expertise and Knowledge
IT consultants bring a wealth of knowledge and expertise in the field of technology. As a result of their dedication to staying abreast of the newest developments in their field, the ideas and solutions they propose for the company's problems are always well-informed and effective.
Cost Savings
Investing in technology can be costly, especially for small and medium-sized businesses. With the assistance of IT consultants, organizations may maximize the return on their IT investments. IT consultants can help companies save money in the long run by spotting and removing wasteful spending practices.
Increased Efficiency and Productivity
A well-designed IT infrastructure can greatly improve the efficiency and productivity of a business. IT consultants collaborate with companies to optimize their technology systems, streamline operations, and automate repetitive jobs. This saves time while simultaneously improving accuracy and lowering the danger of human error. Businesses may increase productivity and do more in less time by successfully embracing technology.
Enhanced Security
Information technology consultants are trained to recognize the need of protecting sensitive company data and may advise firms on how to do so effectively. They can assess the current security measures, identify any flaws, and suggest improvements. Having a reliable security system in place to safeguard customer data and maintain brand integrity is more crucial than ever in this age of increasing cyber threats.
Scalability and Flexibility
As businesses grow and evolve, their technology needs may change. IT consultants can offer adaptable technology solutions that can change with demand, assisting firms in making plans for future growth and scalability. As the company grows, they may also help with the integration and implementation of new systems, guaranteeing a seamless transfer and no interruption to business operations.
Focus on Core Business Functions
By outsourcing IT consulting services, businesses can focus on their core competencies and leave the technical aspects to the experts. This allows business owners and executives to dedicate their time and resources to strategic decision-making and other critical aspects of their business, while IT consultants handle the technology-related tasks.
Access to Latest Technology
IT consultants have access to the latest technology tools and solutions, which may not be readily available or affordable for businesses to acquire on their own. With the help of IT experts, organizations may use the newest technological developments to their advantage, increasing innovation and growth.
Strategic Planning and Guidance
IT consultants can help businesses develop long-term IT strategies and roadmaps aligned with their business goals. To stay ahead of the competition and future-proof their IT infrastructure, firms can benefit greatly from their advice and recommendations on technological investments, upgrades, and migrations.
What Services Do IT Consultants Provide?
Technology Strategy and Planning:
IT consultants can help businesses develop a comprehensive technology strategy aligned with their goals and objectives. They assess the current IT infrastructure, identify gaps and opportunities, and recommend solutions that can enhance efficiency, productivity, and profitability.
IT Infrastructure Design and Implementation:
IT consultants can design and implement IT infrastructure solutions tailored to the specific needs of businesses. This includes hardware and software selection, network design, server setup, cloud migration, and security implementation. By leveraging their expertise, consultants ensure that businesses have a robust and reliable IT environment.
Cybersecurity and Data Protection:
IT consultants play a critical role in assisting organizations in safeguarding their valuable data and digital assets in the face of a growing number of cyber threats. To prevent cyber assaults, they perform risk analyses, create security policies and processes, set up protective technologies like firewalls and encryption, and offer continuous monitoring and assistance.
IT Project Management:
IT consultants can manage and oversee IT projects, ensuring timely and successful completion. From software implementations to system upgrades and infrastructure expansions, consultants provide project planning, coordination, and implementation expertise, minimizing disruptions and maximizing return on investment.
IT Support and Maintenance:
IT consultants provide ongoing support and maintenance for businesses' IT infrastructure. This includes troubleshooting technical issues, resolving system failures, installing updates and patches, and providing technical assistance to employees. Consultants ensure that businesses' IT systems are running smoothly and efficiently, minimizing downtime and productivity loss.
Technology Training and Education:
IT consultants can provide training and education to businesses' employees, helping them enhance their technical skills and knowledge. This includes training on new software applications, cybersecurity best practices, and IT policies and procedures. By investing in employee training, businesses can improve their overall IT capabilities and maximize the benefits of their technology investments.
What is the Difference Between IT Consulting and IT Services?
IT consulting refers to the practice of offering expert advice and guidance to organizations regarding their IT strategy, systems, and infrastructure. IT consultants are typically experienced professionals who possess deep knowledge and understanding of different technologies and their potential applications within a business context.
These consultants work closely with the client to assess their current IT needs, identify areas for improvement, and develop strategies to enhance their overall IT capabilities. They may also assist in implementing new technologies or streamlining existing systems to improve efficiency and effectiveness.
On the other hand, IT services refer to the specific tasks and activities that are performed to support and maintain the IT infrastructure of an organization. This can include a wide range of activities, such as hardware and software maintenance, network management, cybersecurity, data backup and recovery, help desk support, and more. IT service providers are typically companies or departments within an organization that offer these services either on-site or remotely to ensure the smooth operation and functionality of the IT systems.
What Type of Clients Do IT Consultants Work With?
IT consultants deal with a wide range of clients, including small enterprises and huge corporations. They may also collaborate with non-profits, government agencies, educational institutions, and healthcare providers. The specific type of clients that IT consultants work with can vary depending on their area of expertise and the industries they specialize in.
While some IT consultants serve a wide variety of enterprises, others focus on serving a specific industry, such as banking, healthcare, or manufacturing. Regardless of a company's size or sector, IT consulting services may provide invaluable insight and expertise for enhancing IT strategy and operations.
Conclusion
In conclusion, IT consulting is an invaluable resource for businesses seeking to optimize their use of technology. By partnering with experienced IT consultants, business owners and executives can gain valuable insights, expertise, and guidance to make informed decisions that align with their strategic objectives. From implementing cutting-edge solutions to addressing cybersecurity concerns, IT consulting allows organizations to stay ahead of the curve and leverage technology to their advantage. By maximizing the potential of their IT infrastructure, businesses can enhance efficiency, productivity, and competitiveness in today's digital age.
Final Thoughts
With a passion for cybersecurity and a dedication to delivering exceptional services, Buzz Cybersecurity stands as a trusted leader in this ever-evolving industry. Our extensive portfolio of specialized offerings, such as managed IT services, cloud solutions, disaster recovery, and managed detection and response, caters to businesses of all scales. Reflecting our commitment to going the extra mile, we extend our cybersecurity expertise beyond California, covering neighboring states to provide robust digital security. Reach out to Buzz Cybersecurity today and let us be your shield of protection.
Sources
https://www.bdc.ca/en/articles-tools/blog/how-to-use-technology-to-boost-your-operational-efficiency